Indian Railways, in association with the IRCTC, has introduced the Garvi Gujarat Tourist Train as part of the "Ek Bharat Shrestha Bharat" scheme. The Garvi Gujarat train is a Bharat Gaurav Deluxe AC Train with fully air-conditioned coaches, accommodating up to 156 tourists. The 8-day journey will commence from Delhi's Safdarjung station and cover a distance of 3,500km, highlighting the rich heritage and cultural diversity of Gujarat.
This is the 17th Bharat Gaurav circuit, with a theme centered around the life of Indian freedom fighter Sardar Vallabh Bhai Patel. The train is designed to offer tourists a comfortable and luxurious experience, equipped with modern amenities such as air conditioning, well-equipped pantry cars, and CCTV surveillance for security.
The introduction of the 'Garvi Gujarat' rail tour package aligns with the government's 'Ek Bharat Shrestha Bharat' scheme. The package offers boarding and de-boarding facilities at several railway stations, including Gurugram, Rewari, Ringas, Phullera, and Ajmer.
Garvi Gujarat Express Route & Destinations
The Garvi Gujarat Tourist Train's first stop will be at Kevadiya, where tourists can visit the Statue of Unity, the world's tallest statue, dedicated to Sardar Vallabh Bhai Patel. The tour will also cover other significant destinations such as Champaner archaeological park, Adalaj Stepwell, Akshardham Temple in Ahmedabad, Sabarmati Ashram, Modhera Sun Temple, and Rani ki Vav, which is a UNESCO world heritage site in Patan.
Additionally, the tour includes visits to Somnath Jyotirlinga, Nageshwar Jyotirlinga, Dwarkadheesh Temple, and Beyt Dwarka. Tourists will stay at hotels for two nights, one each in Kevadiya and Ahmedabad. The places of interest in Somnath and Dwarka will be covered during the day's stop at the destination. The itinerary begins from Ahmedabad and covers Vadodara, Palitana, Sasan Gir, Somnath, Dwarka, and then returns to Ahmedabad.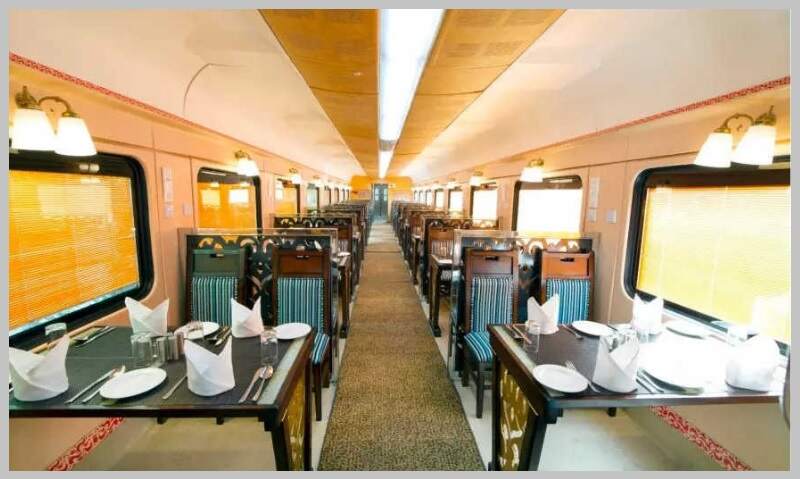 The train will stop at notable destinations, including:
Statue of Unity
The world's tallest statue, the Statue of Unity, stands at a height of 182 meters in Kevadia, Gujarat. It is a tribute to Sardar Vallabh Bhai Patel, the first deputy Prime Minister of India.
Champaner Archaeological Park
The Champaner Archaeological Park, located in Champaner-Pavagadh, Gujarat, is a UNESCO World Heritage site. It features the ruins of an ancient fort, a mosque, and various other structures, including palaces and tombs.
Somnath
Somnath is a renowned pilgrimage site in Gujarat, known for the Somnath temple, one of the twelve Jyotirlingas of Lord Shiva. The temple is believed to be one of the oldest temples in India.
Dwarka
Located on the banks of the Gomti River, Dwarka is home to the Dwarkadhish Temple, which is dedicated to Lord Krishna and is believed to have been built over 2,000 years ago.
Nageshwar Jyotirling
The Nageshwar Jyotirling is a temple near Dwarka dedicated to Lord Shiva. It is one of the twelve Jyotirlingas of Lord Shiva and is considered one of the most sacred places in India.
Beyt Dwarka
Beyt Dwarka is an island off the coast of Gujarat, where Lord Krishna lived with his family. It is home to various temples and is a popular pilgrimage site for Hindus.
Sabarmati Ashram
The Sabarmati Ashram, located in Ahmedabad, was the home of Mahatma Gandhi and the center of his non-violent struggle for India's independence. It is one of the most important historical sites in India.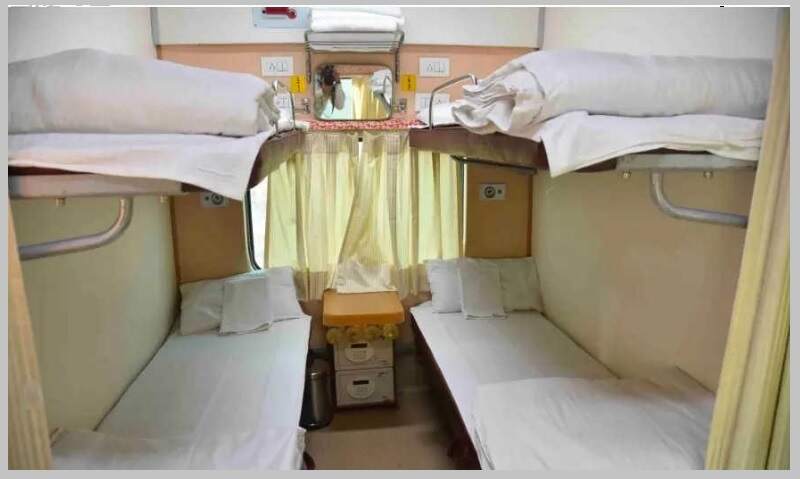 Garvi Gujarat Yatra Train – Features
The modern Bharat Gaurav Deluxe AC Tourist train is equipped with state-of-the-art features, including a fully air-conditioned rake with two fine dining restaurants, a modern kitchen car, shower cubicles in coaches, sensor-based washroom functions, and a foot massager for tourists. The train also boasts a mini library and electronic locker, along with clean toilets and enhanced security features such as CCTV cameras and Security Guards for each coach. The train offers two types of accommodation – 1st AC and 2nd AC class.
Garvi Gujarat Train Itinerary
Vadodara – Statue of unity, and Champaner Archaeological park (UNESCO site)
Somnath – Somnath temple, Somnath beach, and BhalkaTirth
Dwarka – Dwarkadhish temple, Nageshwar Jyotirling, and Beyt Dwarka
Ahmedabad – Sabarmati Ashram, Akshardham, Dandi Kutir, and Adalaj stepwell
Modhera – Sun Temple
Patan – Rani Ki Vav (UNESCO site)
Garvi Gujarat Train Ticket Price
The Garvi Gujarat tour is priced at INR 52,250 per person for AC 2 Tier, INR 67,140 per person for AC 1 (cabin), and INR 77,400 per person for AC 1 (coupe). The cost includes eight-day train fare for the respective class, air-conditioned hotel accommodations, vegetarian meals, transfers, sightseeing in buses, travel insurance, tour guides, and other such expenses. In case you cannot pay the entire amount in one go, IRCTC has partnered with payment gateways to offer EMI options for making the payment.
Garvi Gujarat Train : FAQs
Who operates the Bharat Gaurav trains?
The IRCTC operates these special tourist trains with carefully curated packages for travellers to discover different parts of the country.
What is Ek Bharat Shrestha Bharat scheme ?
The Ek Bharat Shrestha Bharat scheme launched in 2015 by the Ministry of Home Affairs, Government of India, is a initiative aimed at promoting national integration and cultural exchange among different states and Union territories. The program pairs one state with another and encourages people to learn about each other's culture, traditions, language, food, and art.
What is the ticket price of Garvi Gujarat Train ?
The Garvi Gujarat tour is priced at INR 52,250 per person for AC 2 Tier, INR 67,140 per person for AC 1 (cabin), and INR 77,400 per person for AC 1 (coupe).
For latest update on Garvi Gujarat Train, you can visit official website of IRCTC Tourism.
Read other interesting articles:
Sail in Style on MV Ganga Vilas – Longest River Cruise in the World
11 Best Places to visit in Varanasi
11 Travel Essentials List You Need on Your Trip
7 Best Places to visit in Diwali Vacation in India
Patna Museum : Things to Know Before Visiting
Golghar Patna – Facts, History, Timings
11 Best Places To Visit in Patna
9 Best places to visit in Ranchi | Ranchi Tourist Attractions
11 Best Places to Visit in Rishikesh – Exploring City of Yoga