Palolem Beach, Goa Overview: A Tropical Tale
Nestled 38 km from Margaon in Cancona, Palolem Beach is not your regular beach; it's a white sand haven that offers a peaceful retreat in the bustling land of Goa. Unlike its lively counterparts, Palolem embraces calmness and boasts the unique charm of silent noise parties. The beach, surrounded by coconut palm forests, caters to both the serenity seekers and the party enthusiasts.
Nightlife at Palolem Beach
Party Under the Stars
Palolem transforms as the sun bids adieu. Neptune Point hosts the famous 'silent noise parties' every Saturday from 9:00 PM to 4:00 AM. Picture this: dancing to your tunes with headphones on, waves gently crashing in the background, and the moonlit beach creating a magical ambiance. Entry comes at around INR 600 per head. For more traditional nightlife, Cafe Del Mar and Silver Star – Cocktails & Dreams are the places to be. If you crave more, venture to Leopard Valley on the Palolem-Agonda Road for South Goa's most prominent outdoor dance club.
Activities at Palolem Beach
Sun, Sea, and Adventures
Palolem isn't just about soaking in the sun; it's a hub of activities.
Swimming: The northern end offers a safe haven for a refreshing swim with its shallow waters.
Scuba Diving: Dive into the vibrant shades of blue and explore the underwater beauty.
Kayaking: The peaceful cove makes kayaking a delightful adventure. Morning hours are ideal for the calmest sea experience.
Dolphin Spotting: Hire a boat and try your luck spotting dolphins. Morning trips are recommended for the best chance.
Shopping at Palolem Beach
Retail Therapy by the Shore
The strip of shops behind the beach is a treasure trove for souvenirs and Bohemian jewelry. If you're into cooking, attend Chef Rahul's cooking classes for a taste of Goan and North Indian cuisine. And if you're in need of some rejuvenation, Himalayan Therapeutic Studio offers Ayurvedic massages, reflexology, Reiki, and energy healing.
Best Time To Visit Palolem Beach
When to Dive into Paradise
November to February is the prime period for a Palolem escapade. The beach offers a different flavor during the night, perfect for boat rides to nearby islands. Daytime is ideal for cafe hopping, lounging, and, of course, sunbathing.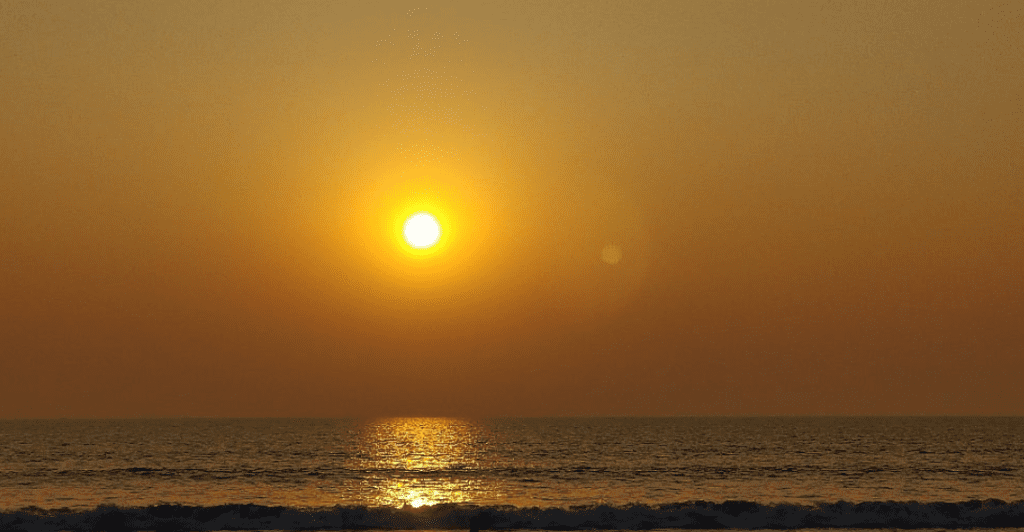 How To Reach Palolem Beach
Navigating to Bliss
From Margao Bus Stand, a 90-minute bus ride (costing around Rs. 40) takes you to Canacona or Palolem. Then, a short 3 km taxi or autorickshaw ride completes the journey. For a more adventurous route, rent a bike or moped to traverse the lush green surroundings.
From Panjim, buses take over three hours, involving two changes. Trains from Karmali Station, near Panjim, take about two hours. Alternatively, a cab or self-drive car from Panjim shaves off time, taking around 1 hour and 15 minutes.
From Goa International Airport, a cab or Towncar ride (about an hour) becomes the ideal choice unless you have a private vehicle.
Palolem Beach, with its daytime tranquility and nighttime vibrancy, stands as the epitome of a Goan tropical paradise.
CITIES2EXPLORE Tips and Suggestions
Stay Safe at Night : Walking around Palolem Beach is usually safe, but it's wise to be cautious, especially at night. Carry a flashlight to avoid bumping into taxis.
Book Hotels in Advance : For better rates, it's a good idea to book your stay in advance before visiting this beach.
Keep an Eye on Kids : When exploring the southern part of the beach or during high tides, ensure your kids stay close to you.
Bring Extra Cash : Make sure to have extra money on hand for eating and shopping since ATMs might not be easily accessible.
Palolem Beach Frequently Asked Questions (FAQs)
What are the top things to do for tourist in & around Palolem Beach?
When there's a full moon at night, it's super fun because you can do lots of cool things like play in the water, go see dolphins, do yoga, get a special massage called Ayurvedic massage, and lots of other fun stuff!
Is there an ideal time to visit Goa for the water sports adventure?
The most fun time for water sports in Goa is from October to May when the wind and water are not too wild. It's better to skip water sports when the water gets rough and tides are high.
What are the best places to visit in & around Palolem beach?
Palolem Beach is surrounded by cool places to visit. You can visit Cabo De Rama, Dudhsagar Waterfall, St. Anne's Church, Turtle Beach or Monkey Island.
How to reach Palolem beach in Goa?
By Plane: The closest airport to Palolem Beach is Dabolim Airport, about 67 kilometers away.
By Train: If you're traveling by train, the nearest stations are Margaon (43 km) and Canacona (2.1 km), both about 43 km from Palolem Beach.
By Road: If you're taking a bus or renting a car, you can use NH178 and NH66 Highways. They both go through the city of Margao and can lead you to Palolem Beach.
---
Read other interesting articles: