Puri, a coastal city in Odisha, is not only renowned for its scenic beauty but also holds great significance as the sacred abode of Lord Jagannath. Nestled alongside the Bay of Bengal, Puri exudes a sense of reverence as devotees pay homage to the revered deity at the Shree Jagannath Temple, one of the four holiest Hindu pilgrimage sites known as Char Dham. Amidst the spiritual ambiance, Puri also boasts one of the state's most captivating beaches, adding to its allure as a must-visit tourist destination.
Places to visit in Puri
Let the charm of Puri beckon you, as you embark on a journey that transcends time and connects you to the divine and the captivating beauty of this sacred city in Odisha. Here are the list of places to visit in Puri.
1. Shree Jagannath Temple
Puri, a city synonymous with devotion and spirituality, is home to the magnificent Shree Jagannath Temple. This revered temple holds profound significance as one of the four major pilgrimage centers for Hindus, forming the sacred Char Dham. Built by the renowned king Ananta Varman Chodaganga Deva of the Ganga Dynasty, Lord Jagannath, an incarnation of Lord Vishnu, alongside Lord Balabhadra and Goddess Subhadra, receives heartfelt worship in the temple. It is the topmost spot in the list of places to visit in Puri.
One of the most anticipated events in Puri is the magnificent Puri Rath Yatra, or Chariot Festival, held in the months of June and July. This extravagant celebration captivates millions of devotees worldwide, drawn by its grandeur and spiritual significance.
Timings : 5.00am – 11.00pm
Location : 3 kms from Puri Railway Station
2. Puri Beach
As the sun paints the sky in vibrant hues, witness the enchantment of sunrise and sunset, drawing countless admirers to this captivating heaven. Located along the serene Bay of Bengal, Puri Beach attracts a vibrant congregation of devoted worshippers who seek solace in its sacred waters after visiting Shree Jagannath Temple. Beyond its religious allure, this coastal gem entices tourists with its pristine sandy expanse and energizing waves. A tranquil haven for nature enthusiasts, Puri Beach, situated on the east coast of the Bay of Bengal, unveils a silent paradise awaiting exploration. Puri Beach creates everlasting memories, leaving a lasting imprint on your soul.
Location : 1.5 km from Puri Railway Station
3. Chilika Lake
Next in the list of best places to visit in Puri is Chilika Lake which is the largest internal saltwater lake in Asia. This enchanting paradise captures the hearts of bird watchers and nature lovers alike. With its unique pear shape and picturesque islands, Chilika Lake is adorned with thriving fisheries and salt pans along its shores and a home to a remarkable array of plants and animals. Chilika Lake is a sanctuary of vibrant colors and natural splendor, inviting you to embark on an unforgettable journey of discovery.
Location : 50 kms from Puri Railway Station
Note : Best to visit is in between November – February
4. Konark Sun Temple
The Sun Temple of Konark, constructed in the 13th century, is a stunning masterpiece of art and engineering. It was commissioned by King Narasimhadeva I of the Ganga dynasty, who dedicated 12 years and the expertise of 1200 artisans to bring this temple to life (1243-1255 A.D.). Designed as a chariot because the ruler used to worship the Sun God, the temple features intricate decorations and is supported by 24 wheels, each approximately 10 feet in diameter, symbolizing a majestic chariot. Despite the passage of time, the allure of this monument remains captivating. If you have a keen interest in architecture and sculpture, a visit to this globally renowned marvel is a must.
Ticket : INR 40 for Indian and INR 600 for Foreigners
Location : 35 kms from Puri Railway Station
5. Raghurajpur Artist Village
Raghurajpur, a village of artistic heritage, is home to more than 120 houses where talented artisans practice various art forms. Among them, the renowned Pattachitra stands out. The term itself is derived from "patta," meaning cloth, and "chitra," meaning painting, symbolizing the art of cloth painting. Additionally, Raghurajpur is the exclusive birthplace of Lord Jagannath's elaborate throne known as Patas.
Timings : 8am – 6pm
Location : 13 kms from Puri Railway Station
6. Pipili
Pipili, located in Puri, is a renowned town known for its exquisite handicrafts that captivate visitors. The local economy thrives on these crafts, offering a wide array of products for sale. From enchanting lamps and intricate wall hangings to stylish handbags, sheets, pillow covers, scarves, and footwear, you'll find an abundance of artistic treasures. As you explore the town, you'll also come across delightful food stalls that offer delectable treats to fill your hunger while you indulge in your shopping spree.
Location : 38 kms from Puri Railway Station
7. Loknath Temple
Loknath Temple in Puri holds a special place among the city's revered religious sites and it is one of the top places to visit in Puri. This ancient temple, dating back to the 11th century, is devoted to Lord Shiva. What makes it unique is that the sacred lingam remains immersed in a natural underground spring for the majority of the year. However, on the auspicious occasion of Pankoddhar Ekadashi, three days before the grand Shivaratri Festival, the water is cleared, revealing the visible form of the lingam. It is during this time that thousands of devotees flock to the temple to witness and pay their respects to Lord Shiva.
Timings : 6am – 9pm
Location : 53 kms from Puri Railway Station
8. Narendra Pokhari/Sarovar
Narendra Tank is a magnificent water reservoir in Odisha. It is said to have been constructed during the 15th century. This expansive tank holds great significance and is surrounded by numerous small and large temples. In the midst of the lake, there is an island featuring a charming temple called Chandana Mandapa.
Spread across approximately 3.24 hectares, Narendra Sarovar is believed to be the largest among all the sacred tanks in Puri. It is also known by the names Narendra Pokhari and Narendra Tank. On the island within the tank, a splendid temple is there dedicated to the revered deities Lord Jagannath, Lord Balabhadra, and Goddess Subhadra. Moreover, this tank serves as the enchanting venue for the famous summer festival known as Chandan Yatra.
Timings : 5am – 9pm
Location : 2 kms from Puri Railway Station
9. Markandeshwar Temple
Markandeshwar Temple, also known as Markandesvara Temple, Markandeya Shiva Temple, and Markandeshwar Mahadeva Temple, is another revered Shiva temple in Puri. According to legends, sage Markandeya built this temple as an expression of gratitude to Lord Shiva, who saved him during his meditation. The temple proudly displays a captivating figure of Nataraja with ten arms, adorned in the Chaitya window at the entrance. Intricately carved images of Goddess Parvati, Lord Muruga, and Sri Ganesh grace the front of the sanctum.
Timings : 6am – 9pm
Location : 3.5 kms from Puri Railway Station
10. Sudarshan Crafts Museum
Sri Sudarshan Sahoo founded the Sudarshan Crafts Museum to create a space for art enthusiasts. This museum showcases the evolution of traditional sculptures throughout the years, allowing visitors to witness the remarkable changes. It not only provides a platform for artists to showcase their craftsmanship in the showroom but also offers them a dedicated workspace to hone their skills. The Sudarshan Crafts Museum is a vibrant hub that celebrates art and provides a nurturing environment for both artists and art lovers.
Tickets : INR 5 for Indians & INR 50 for foreigners
Timings : 8am – 12pm & 2pm – 8pm
Location : less than 1 km from Puri Railway Station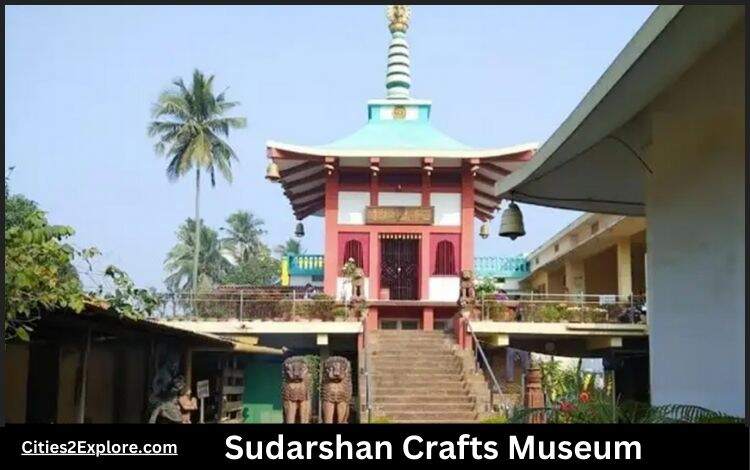 11. Panch Tirtha
Pancha Tirtha, also known as the Five Holy Tanks, comprises five sacred bathing kunds (tanks) in Puri: Indradyumna, Markandeya, Swetaganga, Rohini, and Mahodadhi. These tanks hold immense religious significance and are an integral part of the pilgrimage journey in Puri. Pilgrims believe that bathing in these tanks is essential to fulfill their spiritual quest.
The pilgrimage begins at Markandeya Tank, located near Markandeshwar Temple. It is believed to be the sacred spot where Lord Vishnu manifested as a neem tree. Rohini Kund can be found within the premises of Jagannath Temple, while Indradyumna Tank is situated close to Gundicha Temple. Swetaganga Tank lies to the south of Niladri, the divine abode of Lord Jagannath. Finally, Mahodadhi serves as the holy bathing place in Swargadwar, the gateway to heaven, where devotees take a dip with the aspiration of attaining moksha or liberation.
Can you suggest an itinerary for Puri?
Day 1: Upon arrival in Puri, begin your day by visiting the renowned Jagannath Temple and exploring the local markets nearby. Afterwards, unwind and enjoy the beautiful Puri Beach, admire the sand sculptures, bask in the sun, and witness the mesmerizing sunset.
Day 2: Embark on a trip to Konark and marvel at the magnificent Sun Temple with its captivating architecture. Rejuvenate yourself at Ramachandi and Chandrabhaga beaches, located around 30km from Puri, where you can partake in thrilling water sports like water skiing and parasailing.
Day 3: Delight in a visit to Chilika Lake, especially during the winter season when you can spot numerous species of migratory birds. Chilika Lake is a haven for over 200 species of migratory birds. Additionally, explore the Baliharachandi Temple, the Nalabana Bird Sanctuary, and the scenic Satapada Beach.
Day 4: Conclude your journey by visiting Bhubaneshwar and enjoying the local sightseeing attractions.
Discover the best places to visit in Puri on Google Maps !
Discover the Panch Tirth in Puri on Google Maps !
Places to visit in Puri : FAQs
How many beaches are there in Puri?
Puri has 7 stunning beaches, including Balighai Beach, Chandrabhaga Beach, Puri Beach, Swargadwar, Golden Beach, and Baliharachandi Beach.
Does Puri Jagannath Temple allow jeans?
No, entry into the temple is not permitted while wearing jeans, T-shirts, or shorts.
How many days are enough for Jagannath Puri?
One day is enough to visit Jagannath Puri Temple but to explore more in Puri, it is recommended to allocate around 3-4 days, including Puri Beach, Jagannath Temple, Konark Temple, and the Crafts Museum.
What is the Speciality of Puri?
Puri is renowned for its iconic Jagannath Temple and the longest golden beach in India, known as Puri Beach. It holds a significant place as one of the four Dhamas in India, alongside Dwarika, Badrinath, and Rameswar.
When to visit Puri?
The ideal time to visit Puri is from June to March. During June to September, it is the monsoon season, with moderate rainfall in the beginning and heavier rainfall towards the end of the month. The summer season in Puri is from March to May.
What are the top sightseeing places in Puri?
Some of the top sightseeing places in Puri include the Sri Jagannath Puri Temple, Chilika Lake, Puri Beach, Jagannath Rath Yatra, Narendra Tank, and Lakshmi Temple.
How can I commute within Puri?
In Puri, you can easily travel within the city using different modes of transportation such as cycle-rickshaws, auto-rickshaws, and hired motorbikes. Cycle rickshaws are the most affordable option, while auto-rickshaws often require negotiation as their meters may not work.
What is the best season to visit Puri?
The winter season, from November to February, offers a pleasant climate for your visit.
What are some must-visit places & things to do while visiting Puri?
Some top places to visit in Puri are Shree Jagannath Puri, Puri Beach, Konark Sun Temple, Chilika Lake, Narendra Sarovar, Panch Tirth and Markandeshwar Temple.
What should we buy from Puri?
In Puri, you can find a variety of items to purchase, including Pattachitra paintings, stone statues, baskets, decorative trays, metalware, jewelry, horn work items, canopies, and garden & beach umbrellas.
How many beaches are there in Puri?
Puri has 7 stunning beaches, including Balighai Beach, Chandrabhaga Beach, Puri Beach, Swargadwar, Golden Beach, and Baliharachandi Beach.
How many days are enough for Puri?
It is recommended to allocate around 3-4 days to fully explore Puri's attractions, including Puri Beach, Jagannath Temple, Konark Temple, and the Crafts Museum.
Who built Jagannath Temple Puri?
The Jagannath Temple in Puri was constructed by King Chodaganga of the Eastern Ganga dynasty. Built in the 12th century, this magnificent temple is located by the seashore and holds great significance as a landmark in Odisha.
Why is Chilika Lake famous?
Renowned for its abundant bird species and picturesque landscapes, Chilika Lake is a must-visit destination in Puri. Its remarkable biodiversity and scenic beauty make it one of the top attractions in the area.
Read other interesting articles: