Chapter 1 : Arrival
The day finally came, I couldn't hold my excitement. We were finally going for a group trip and then my phone rang.
"Yeah brother ! All packed up?", I asked with all the excitement that I had.
"Rohan, about that. I am having second thoughts. I don't wanna go", my friend replied in a low voice.
"What happened? Why now?" I enquired.
"The chart is prepared and the seat is not confirmed. It is still in RAC."
We had booked the ticket for all of us but two of them decided that they would join us at Delhi. And because of their mismanagement, they are still here and also without the confirmed ticket. Long story short, we had three RAC tickets and five passengers.
"C'mon! That should not be the reason. You know we bought two counter tickets yesterday."
"I know but I am not feeling it.", my friend said.
"See, there would be no problem on the train. Rest assured you will have the berth." I tried assuring him for his moronic reasons. The goal was to get him on the train and once on the train problems always find their solutions. "Think about the fun we would be having there. Take this as a motivation and meet me at the station at 7pm", I said and hung up the phone without letting him say anything more stupid.
All arrived at the station but me. I don't know why I was running late. It is not on purpose but I give others the thrill and anxiety of missing the train. And just in time, I boarded. To my surprise, I found my friend's concern was genuine. There were people and they were everywhere in the coach. Skimming through the crowd, I reached my berth, well half berth.
We gave a moment to brainstorm how we are going to manage one and half seats with 5 people and we concluded nothing. A plastic sheet was bought, known among passengers as 'confirm ticket', and was laid down the aisle of the coach, next to our seats. Using it as a bedsheet, the two of us spent the night on the floor.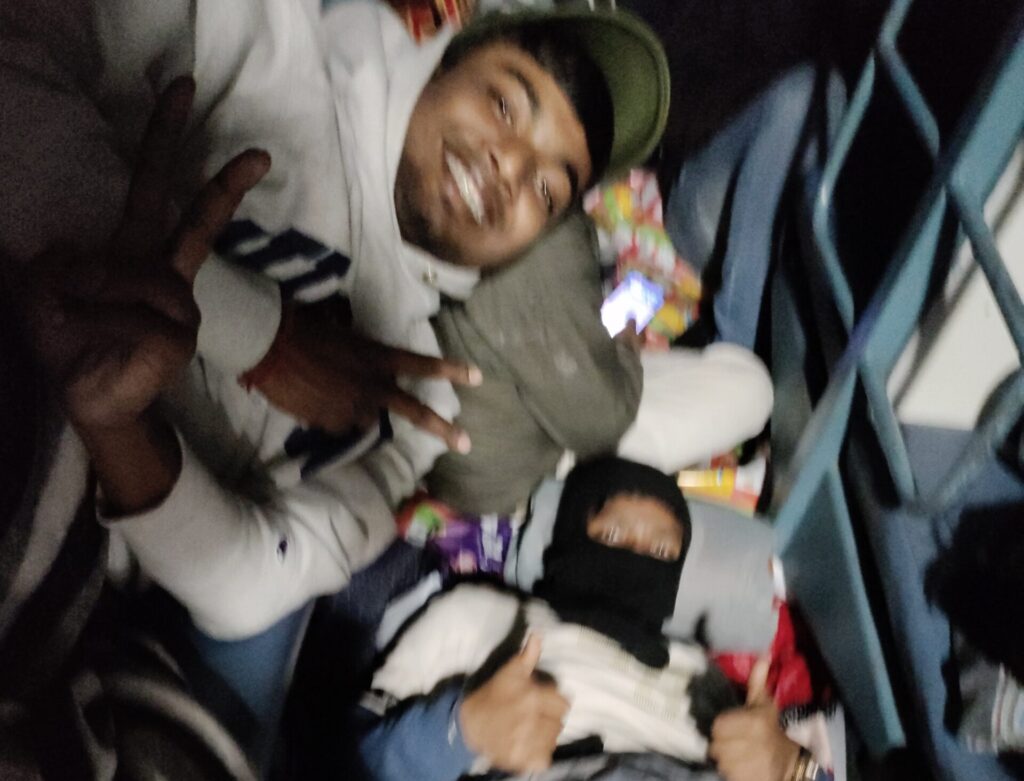 We woke up in the city of street foods, New Delhi. Being our first halt on the journey to Rishikesh, we freshened up and fed ourselves. The plan was to get to Haridwar, our second halt and rent bikes there, then we would ride to our destination. So, the overall map was there but minor nuances we didn't plan, like how we are going to Haridwar. We went to the Kashmiri Gate and we sat down to discuss at a restaurant which weirdly does not take orders for lunch before 11 am even if there is only 5 mins left until 11. We found there were options, like bus, train and the cab. We were on budget, so cab was out of the option. The train was a good option if we were discussing this early when we arrived in Delhi. The option we were left with was the bus. We had enquired earlier about the bus fee, they were asking 700-800 rupees per person. But they were private, I guess because when we explored the Kashmiri Gate, we found the government buses. We took the government buses and they charged almost 300 rupees per person.
We were on the bus like forever. All the coming signs said 'Haridwar – a freaking long km away' as if the distance never decreasing. We never saw Haridwar 0 km away but with pain in our back and the sun setting we finally reached.
Upon setting a foot, I immediately called the bike rental service in Haridwar that I saw on YouTube. They came to pick us up. We were really impressed by their service. They took us to their shop and showed the variety of bikes we could rent. As we were on a budget, scooty seemed the best option. But there are some toys we can endure to go overboard. Our final decisions were two touring bikes and one scooty as we were five and this was not our city that we could manage on two vehicles only. Also, a pick up vehicle was needed for our luggage and no better option than a scooty itself.
We began our first ever road trip. Our destination, Rishikesh. But first a little detour. We went 19 kms in the opposite direction after fueling to buy an important drink from a mall as we hoped that these drinks would not be available at our destination and later we found we were right. These can be found on the outskirts of the city as far as we got to know.
We had booked an airbnb in Tapovan, Rishikesh. The offer we got was very cheap considering the time of the year. It was only 2 days until the New Year. The trick is to negotiate on the price with the owner on the phone. So, after shopping we headed towards our airbnb which was 19 plus 30 kms away.
With no obligation to come home before 9pm, we were like free owls. Yes, the sun had set hours ago. We were grooving with the empty roads straight ahead, enjoying the cold breeze touching our faces and a drizzle of rain making our ride dramatically grand. Being drunk in this surreal moment, I started carelessly accelerating the bike and all of sudden I saw a speed breaker ahead. I was scared stiff. Even though it was drizzling, the roads were wet enough to slip the tires. I immediately pushed down the rear brake and the back wheel skidded like a pendulum. It was a miracle that the bike was still straight up and not on the ground. My friend sitting behind me was oblivious to what happened in those few seconds. I stopped to catch a breath after such a near death experience. Learning from this experience, I rode cautiously for the rest of the trip as I understood these are unknown terrains and I have to be more careful.
We were hungry, especially me. After such an experience I needed to eat to feel alive again and given the time of the night, it was difficult to find such a place. Luckily, we found a place just outskirt of Rishikesh. It was not a hotel, not a restaurant but a roadside vendor serving food on tables. There were people so at least it was clear that food was okay but we didn't expect to be that good. It was so delicious that we ate our dinner there for the rest of our stay in Rishikesh.
At 11 we arrived at our rented flat. The parking space was good. The room was spacious, one kitchen and a bathroom, also there was a sofa cum bed in the hall. We relaxed and talked about the plans for tomorrow and before we knew it we were all recklessly sleeping in the hall even having two rooms and two beds.