Nestled along the coast in Kerala, Varkala Beach is a secluded tropical paradise known for its beautiful reddish cliff scenery, rejuvenating mineral springs, laidback atmosphere and distinctive beach culture.
This detailed guide covers everything you need to know to plan the perfect trip to Varkala Beach and make the most of your time in this beach town, from the top things to do, attractions nearby, where to stay and eat, shopping tips, how to get there, weather, history and more!
Introduction to Varkala Beach
Varkala is located in the southern part of Kerala, roughly 55 km north of Trivandrum. This former quiet fishing village is now a popular tourist destination, especially among foreigners and backpackers.
Varkala is best known for its striking red laterite cliff beach lined with natural medicinal mineral water springs. The laidback vibe, small hippie cafes, abundant yoga centers, rejuvenating Ayurvedic massages and beach shacks all add to the tranquil atmosphere.
In this comprehensive guide to Varkala Beach you'll find:
How to get there from various cities
When is the best time to visit
Top things to do on the beach
Nearby attractions and places to visit
Where to stay from luxury to budget hotels
The best restaurants, cafes and beach shacks
Shopping in Varkala for souvenirs
Helpful safety tips and precautions
Varkala's history and significance
Festivals celebrated in Varkala
And much more!
By the end, you'll have all the information you need to plan an amazing trip to Varkala Beach and make the most of your time in this tropical paradise.
About Varkala Beach
Varkala Beach stretches uninterrupted along the coastline for around 1.5 km. It has a beautiful reddish-brown sand that slopes gently into the Arabian Sea.
The shore is overlooked by majestic red laterite cliffs, up to 80 feet high in some places, dotted with swaying palm trees.
Along the cliff you'll find plenty of beach shacks, open-air restaurants, guesthouses, resorts and Ayurvedic centers making use of the sea views and breeze.
Varkala Beach History & Significance
Varkala has a long history dating back 2000 years. In ancient times, Varkala was an important Hindu pilgrimage site as the Pandava brothers offered prayers at the Janardhana Swami Temple here.
It was also a hub for Hindu Ayyappa worshippers during their pilgrimage to Sabarimala. The medicinal Varkala springs have been known since antiquity for their curative properties.
Over time, Varkala transformed from a pilgrimage site to a fishing village. But it remained relatively obscure until the 1970s when it was developed into a tourist destination by showcasing the cliffs, beach and springs.
Varkala is now popular not just with foreigners but also locals for its distinctive beach culture. The mix of tranquil coastline and Ayurveda offerings have also given Varkala a reputation as a holistic retreat.
Today, Varkala stands out among Kerala's beach destinations for its laidback atmosphere, striking amalgamation of beach and cliffs, and backpacker friendly vibe.
North Cliff and South Cliff
Varkala Beach is informally divided into North Cliff (also called Papanasam beach) and South Cliff (also called Black beach) by a small fisherman's cove called Varkala Tunnel.
North Cliff is where most restaurants, resorts and activity is found. It can get quite lively and busy in peak season with tourists sunbathing, swimming and enjoying water sports.
Comparatively, South Cliff has more secluded areas perfect for relaxing and playing in the waves. The crowds are thinner here too. But be careful of the lack of safety rails along the cliffs here.
Waves and Safety
The sea is generally calm and safe for swimming. But be cautious of strong waves during monsoon season from June to September when the beach can be unsafe with high swells and undercurrents.
Lifeguards are on duty along the main beach stretch in North Cliff to ensure safety. Avoid going too deep and keep a watch on red warning flags.
Top 12 Things to Do in Varkala Beach
Here are the must-try activities to make the most of your Varkala beach holiday:
1. Relax on the Beach
Soak in the sun, play in the gentle waves, build sandcastles or simply admire the views of the red cliffs and blue sea. Early mornings are wonderful for a peaceful, quiet stroll along the shore.
The best area is Papa Nazhi Kadavu in South Cliff, which has a natural aquarium-like rock pool great for swimming.
2. Watch Magnificent Sunsets
Make sure to catch the sunset over Varkala beach by heading up to the cliffside promenade around dusk. Watching the sun sink into the sea is an incredible sight.
The stretch near Kappil Lake is great for an unobstructed sunset view. Go on full moon nights for bonus points!
3. Try Fun Beach Activities
Join friendly games of beach cricket, football or volleyball with the locals and other tourists.
You can also try surfing when the waves get bigger during monsoon. Many places rent out surfboards.
4. Get Ayurvedic Massages and Treatments
Rejuvenate your body and mind with traditional massages and spa therapies offered at various centers along the North Cliff. Highly recommended!
Some of the best ones are Ananda Ayurveda & Yoga Center and Ocean Spa Beach Resort.
5. Practice Yoga and Meditation
Varkala is a hub for yoga in Kerala. Many ashrams and shalas along the cliffs hold daily yoga and meditation classes in the mornings and evenings. Perfect way to find your inner peace.
Popular options are Sivananda Yoga Vedanta Dhanwantari Ashram and Yoga With Haridas.
6. Trek to Edava Beach
Take the scenic 30 minute trek from South Cliff to the secluded Edava black sand beach. The trail offers amazing coastal views. You can also spot dolphins!
7. Go Dolphin Spotting
Get an early morning boat ride through the Varkala coastline to spot dolphins swimming in their natural habitat.
The best season is December-May when sightings are almost guaranteed if you go with an experienced local boatman.
8. Visit Janardana Swami Temple
This ancient 2000 year old Hindu temple sits atop a hill near the main beach. Climb up early mornings for wonderful panoramic views.
The temple is dedicated to Lord Vishnu and has an interesting architecture.
9. Check out Anjengo Fort
Located 5 km from Varkala, this 300 year old British-era fort has an interesting history as an East India Company outpost.
Don't miss the quaint beach tucked behind the ruins, perfect for an evening swim.
10. Enjoy Water Sports
Varkala Beach offers plenty of water sport options like parasailing, jet skiing, speed boat rides, banana boat rides and more.
Head to the North Cliff area to find operators like Ocean Blue and Aqua Marina.
11. Go on a Backwater Cruise
Take a soothing houseboat cruise along the inland backwaters near Varkala that are lined with palm trees, villages and paddy fields.
Trips usually depart from Kappil Lake jetty.
12. Treat Your Tastebuds
Indulge in traditional Keralite dishes like fish molly, kappa (tapioca) and fresh seafood. Don't miss the cheap and tasty fruit juices sold along the beach and cliffs!
The beach destinations really let you try amazing local cuisine.
So try out these memorable activities to fully experience Varkala Beach beyond just sunbathing and swimming!
Top Attractions and Places to Visit Near Varkala Beach
Aside from the main beach, here are some must-visit spots near Varkala to add to your itinerary:
Papanasam Beach
Known for its beautiful mineral springs, this secluded beach near Varkala has samadhis of the saints Malu and Unni that Hindu pilgrims visit. Also called North Cliff.
Kappil Beach
Charming lake beach with boating facilities and wooden bridge, located 7 km north of Varkala. Offers magnificent sunset views if you walk slightly north along the beach.
Edava Beach
Secluded black sand beach 25 km north of Varkala that's perfect for relaxing, playing cricket or photographing fishing boats sailing by in the morning.
Sivagiri Mutt
Headquarters of the Sree Narayana Dharma Sangham Trust founded by renowned social reformer Sree Narayana Guru. Located 30 km from Varkala.
Anjengo Fort
Historic British East India Company fort near Varkala built in the 1700s with an old lighthouse, barracks ruins and pretty beach tucked behind it for exploring.
Janardhana Swami Temple
Prominent 2000 year old temple dedicated to Lord Vishnu built in typical Kerala style architecture. Perched on a hilltop near the main beach.
Kaduvayil Thrikkovil Temple
This Shiva temple set amidst rocks on the coastline is over 300 years old and has an interesting legend behind it. Just 2 km from Varkala.
Varkala Tunnel
Natural stone tunnel between North Cliff and South Cliff created by the waves crashing against the rocks over centuries.
So take a break from the main beach to see these magnificent nearby attractions!
How to Get to Varkala Beach
Here are all the transportation options to get to Varkala Beach:
By Air
The nearest airport is Trivandrum International Airport located 55 km south of Varkala. It has regular flights from major Indian cities operated by Indigo, Air India, SpiceJet, GoAir and more.
From Trivandrum Airport you can take a prepaid taxi or private cab which takes about 1.5 hours to reach Varkala. Kerala RTC buses also ply frequently between Trivandrum and Varkala.
By Train
Varkala Sivagiri Railway Station is just 2 km from the main beach area, with regular trains from Trivandrum, Kochi, Chennai and other cities in Kerala and Tamil Nadu.
The larger Kollam Junction Railway Station is 25 km away from Varkala. Many trains headed to Trivandrum also stop at Varkala Station.
By Road
Varkala Beach is located along the NH66 highway between Kollam and Trivandrum. It's about a 2.5 hour drive from Trivandrum and 1 hour drive from Kollam.
KSRTC buses, taxis and private vehicles regularly ply between Varkala and other towns and cities in Kerala like Kochi, Kollam, Trivandrum, Kottayam etc.
Driving Distance and Time from Major Cities
Trivandrum – 55 km, 1.5 hours
Kochi – 170 km, 4 hours
Kollam – 40 km, 1 hour
Kovalam – 85 km, 2.5 hours
Kumarakom – 125 km, 3.5 hours
Alleppey – 150 km, 4 hours
So Varkala Beach can be easily reached by air, rail or road!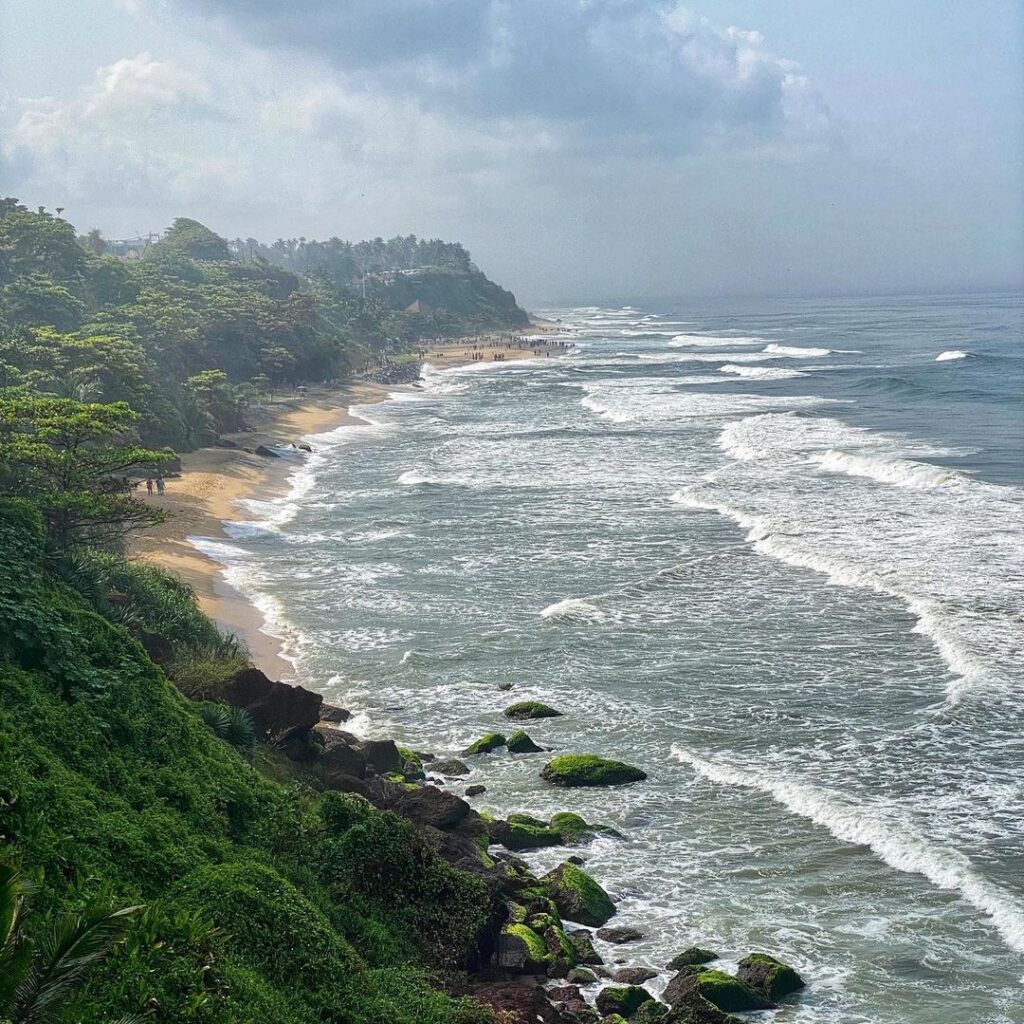 Where to Stay in Varkala – Best Hotels & Accommodation
Varkala has accommodation options ranging from luxury resorts to budget hostels and homestays to fit all budgets and needs:
Luxury Beach Resorts in North Cliff
Gateway Hotel Varkala Cliff – 5 star cliff-edge resort with infinity pool
Deshadan Cliff and Spa Resort – Renowned Ayurvedic resort with massage center
The Lalit Resort & Spa Varkala – Plush 5-star property with open-air restaurant
Mid-range Hotels in North Cliff
Jicky's Boutique Hotel – Quaint property with AC rooms, pool, restaurant
Villa Jacaranda – Charming hotel perfect for families
Kerala Bamboo House – Cottages surrrounded by bamboo groves
Budget Homestays and Hostels
Mango Meadows – Simple homestay with homecooked food
Bedbox Varkala – Funky hostel with dorms and hammocks
Marvel Beach Cafe – Laidback beach shacks with budget rooms
I recommend staying close to North Cliff to be in the heart of the action or South Cliff for more seclusion. Book months ahead for peak New Years and Christmas season.
Best Restaurants & Cafes in Varkala
Varkala has an excellent food scene thanks to numerous restaurants, cafes and beach shacks. Here are some must-try places:
Restaurants for Multi-Cuisine
Darjeeling Cafe – Scrumptious authentic Kerala style dishes
Trattorias – Italian favorites like wood-fired pizzas and pasta
Thaff – Arabian dishes like shawarmas and hummus
Cafes for Coffee & Breakfast
Coffee Temple – Amazing coffee with ocean views
Bohemian Bakery – Fresh baked breads and pastries
Lazy House Cafe – Charming garden ambience for coffee
Cliffside Beach Shacks
Prana Beach Cafe – Creative seafood and western dishes
Sreepadmanabha – Delicious authentic Kerala cuisine
Outhouse Beach Cafe – Laidback setting with budget meals
Don't miss trying the fresh and tasty local fruit juices sold all along the cliffs and beach for just ₹30!
Seafood lovers should also try the excellent and cheap fish caught everyday and served at the beach shacks.
Shopping in Varkala – What To Buy
Aside from soaking up the sun and ocean, Varkala also offers some great shopping:
Tailor-made clothing – Varkala has many skilled tailors who can stitch custom Indian outfits for you in just 1-2 days. Get dresses, kurtas, pants etc made to fit you perfectly.
Spices – Buy aromatic spices grown in Kerala like pepper, cardamom, vanilla, cinnamon sticks, cloves etc to take home.
Incense sticks – Available in sandalwood, jasmine and other fragrances.
Kerala handicrafts – Unique souvenirs like handmade soaps, teas, oils, paintings, wood carvings, pottery, jewelry etc.
Spiritual items – Rudraksha beads, spiritual books & music, sandalwood malas etc.
Coffee & tea – Try locally grown robusta coffee beans and teas like nilgiri tea, lemon tea etc.
I recommend checking out the North Cliff promenade, municipal market and bazaar near the temple to find hidden shopping gems in Varkala. Remember to bargain!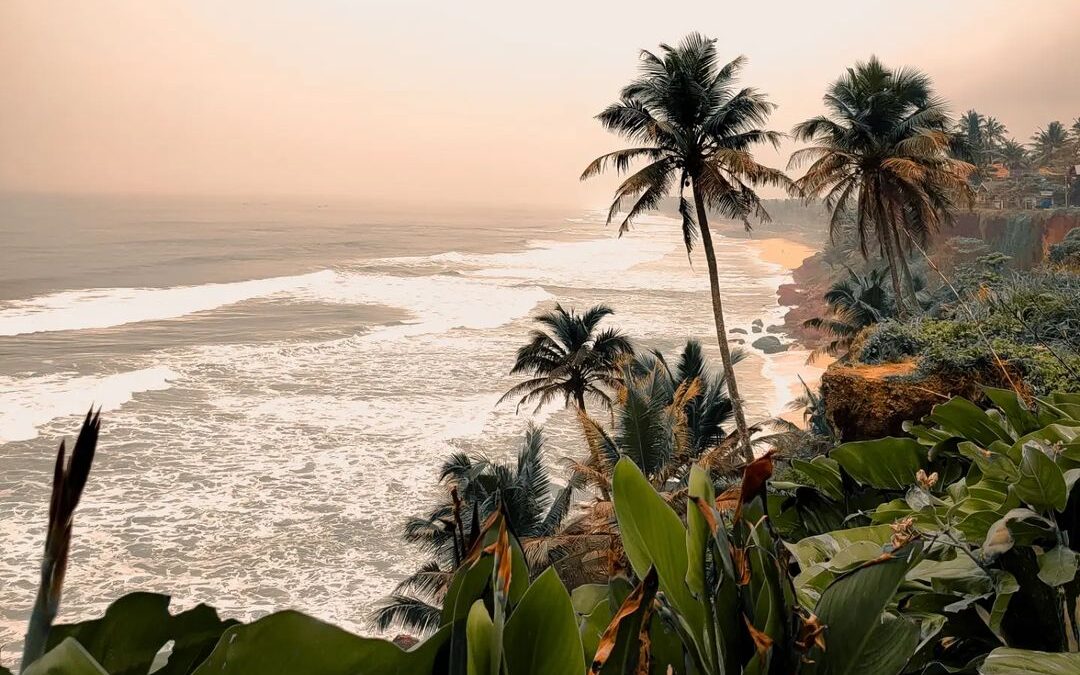 Tips & Precautions for Varkala Beach
Keep these tips in mind to make the most of your Varkala Beach trip:
Avoid walking too close to the edge of the cliffs especially in South Cliff where there are no barricades
Watch out for strong waves and undercurrents during monsoon season from June to August
Not advisable for non-swimmers or young children to venture into the sea
Keep valuables safely locked up in your room and don't carry them to beach
Solo female travelers should exercise caution, especially when out at night
Apply sunscreen regularly to avoid sunburn
Stay hydrated and drink lots of water or coconut water
Do not take photos near or go close to the Hindu samadhis along the North Cliff
Consume alcohol in moderation and avoid drugs for your own safety
Check for red warning flags before swimming and don't go too deep
Best Time To Visit Varkala Beach
Here are the pros and cons of visiting Varkala Beach during different seasons:
October to March – Pleasant weather, ideal for sunbathing and sightseeing. Beach is safe for swimming. Peak tourism season leads to crowds and expensive stays.
April & May – Hot and humid weather before monsoon. Fewer tourists so cheaper stays. Sea still safe for swimming.
June to August – Heavy monsoon rains with high waves and rough sea. Few visitors but attractions open. Stays are heavily discounted. Ayurveda treatments popular.
September – Post-monsoon period with occasional showers. Sea remains rough. Shoulder season with thinner crowds.
So the best time to visit Varkala is during the winter and spring from October to March when the weather is comfortable and the ocean suitable for swimming. But avoid Christmas and New Year's when it gets very crowded.
Major Festivals Celebrated in Varkala
Varkala comes alive with cultural festivities throughout the year, especially:
Sivagiri Pilgrimage – Held annually in December-January, it commemorates the Hindu social reformer Sree Narayana Guru's teachings and involves devotees marching to Sivagiri Mutt.
Vishu – Kerala's New Year festival celebrated in April with fireworks and special sadhya feasts.
Onam – The harvest festival in August/September celebrated with boat races, dance (kaikottikali), flower decorations and more.
Navrathri – The Hindu Festival of Dance is celebrated for 9 nights with elaborate costumes and stage performances.
Christmas & New Year's– Celebrated in December with masses.
How to Get Around Varkala Beach
Varkala beach town is quite small, so you can easily get around by walking. Just make sure to bring umbrellas and wear hats during the hot summer months.
Here are some other transportation options:
Autorickshaws – Also called tuk-tuks, autorickshaws are the most convenient way to get around Varkala beach for short distances. Agree on the fare before getting in.
Taxis – More comfortable option for longer day trips to nearby attractions like Kollam, Trivandrum etc. Book through your hotel or local taxi stand.
Scooters & Bikes – Popular way to independently explore Varkala's sights. Many places rent out scooters and Royal Enfield bikes both hourly and daily. Remember to wear helmets!
Cycles – For the adventurous, cycling is recommended to traverse up and down the cliffs or to nearby villages and sights. Some hotels provide complimentary cycles.
Walking – Once you're in the main beach area, walking is the best way to get around the North Cliff and South Cliff attractions. Just bring sun protection!
Varkala Beach Entry Fees & Timings
Beach – Open 24×7 and free to access. But swimming in the sea is recommended only during daytime.
Janardhana Swami Temple – No entry fee, opens at 5 AM and closes at 8 PM. Dress conservatively.
Anjengo Fort – Ticket is ₹5 for visitors. Open all days from 8 AM to 5 PM.
Sivagiri Mutt – No entry fee and open all days of week. Visit between 5 AM – 12 PM and 5 PM – 9 PM.
So the beaches and major attractions around Varkala can be easily accessed by paying minimal fees during daytime hours.
What to Pack for Your Varkala Beach Trip
Pack these essentials in your luggage to enjoy a comfortable and fun trip to Varkala Beach:
Sunscreen – Crucial to protect your skin from sunburn, especially if swimming. Reapply often.
Hat/Visor – Shield yourself from the sun when out exploring the beach and cliffs.
Swimwear – Have your swimsuits, trunks, etc ready for beach and pool time. Pick UV protective swimwear.
Sandals – Open footwear like flip flops work best for the beach. And some sturdy sandals/shoes for hiking.
Sarong/Beach Wrap – To cover up between swims or entering restaurants after a beach day.
Water Bottle – Stay hydrated in the heat. Fill up with clean water during your stay.
Sunglasses – Essential for sightseeing under the bright sun. Pick polarized lenses for glare reduction.
Medicines – Have any personal medicines, first-aid kit, insect repellent cream, etc handy.
Camera – Capture incredible moments from your trip to Varkala's beaches, temples, eateries and more!
Books/Music – Spend afternoons reading or listening to music as you relax on the beach.
Portable Charger – Charge your phone, camera, etc on the go when a power socket is not available.
Moisturizer/After-Sun Cream – Replenish moisture to your skin after exposure to the sun, salt and heat.
Light Cotton Clothes – Pack breathable cottons, linens, kurtas and short dresses for the humid weather.
So pack wisely keeping Varkala's tropical climate in mind for maximum comfort and convenience during your beach getaway!
Getting a Massage in Varkala
Varkala is renowned across the world for its wide range of rejuvenating Ayurvedic massages and treatments. Here are some tips for enjoying an amazing therapy session:
Choose from specialty massages like abhyangam, shirodhara,sarvangadhara etc offered at various spa centers and resorts.
Opt for an hour long session for a comprehensive oil massage experience. Longer sessions go even deeper.
Go for joint massages or packages if you want massages for 2 people. Many places offer couples packages.
Pick spas like Ananda Ayurveda With Haridas for the best therapists and ambience. Reviews will guide you too.
Book your massage slot well in advance, especially if you want to go during peak seasons like December-January.
Arrive 10-15 minutes early for your appointment time to change and relax before the massage.
Don't eat a heavy meal before the massage. Have a light snack 2-3 hours prior.
Pay attention to your therapist's instructions on breathing and posture during the massage.
Stay hydrated and moisturize your skin after the massage.
So take time out to rejuvenate your mind and body through Ayurveda, an integral part of the Varkala experience!
What to Eat in Varkala
Beyond just the beaches and massage, Varkala is a haven for foodies with its fresh seafood and traditional Kerala cuisine. Here are some local dishes and items to try:
Seafood Dishes – Fish molly, mussel curry, crab roast, fried prawns and more. Get the catch of the day!
Appam with Stew – Soft appams eaten with veg/egg stew is a Kerala breakfast staple.
Parotta – Flaky flatbread usually eaten with vegetable kurma or chicken curry.
Idiyappam – String hoppers made of rice noodles, eaten with spicy gravies and curries.
Sadhya Meals – Elaborate multi-course vegetarian feast served on banana leaf.
Fruit Juices & Smoothies – Try creative options like watermelon, pineapple, kiwi juices with lime.
Tender Coconut – Drink the refreshing and nutrient-rich coconut water, a natural electrolyte.
Chai – Can't miss having Kerala's signature milky tea, sweetened just right.
Seafood BBQ – Grilled and fried fish, squid, prawns, lobster with rice or naan.
So tantalize your tastebuds by trying the amazing local cuisine in Varkala for the ultimate foodie experience!
FAQs about Varkala Beach
What is the best time to visit Varkala Beach?
The ideal time is from October to March during the cool and dry winter/spring season when swimming conditions are best. Avoid the monsoon season from June to August when the sea can be rough and unsafe.
Where is the best area to stay in Varkala Beach?
For being walking distance to restaurants and beach action, North Cliff is the most popular area. South Cliff is good for a more isolated and peaceful stay. Hotels in both areas offer sea views.
What is there to do in Varkala Beach besides sunbathing?
Top activities include water sports, yoga classes, Ayurvedic treatments, hiking to Edava beach, visiting Janardhana Swami temple, dolphin spotting boat rides, shopping for souvenirs, enjoying the food and more!
Is the sea in Varkala Beach safe for swimming?
During the dry winter season, the sea is generally calm and safe for swimming. But be cautious and avoid going during the monsoon when waves can get very rough and high.
How do I get from Trivandrum airport to Varkala Beach?
The fastest and most convenient way is to take a prepaid taxi or private cab from outside the airport which takes around 1.5 hours to reach Varkala. Kerala RTC buses are cheaper but take longer.
What is the weather like in Varkala Beach?
Varkala has a tropical climate. Summers are hot and humid while winters are comfortable and dry. The monsoon season from June to Aug brings heavy rain.
Conclusion
From its striking reddish cliffs and palm-fringed shores to rejuvenating Ayurvedic treatments and laidback bohemian vibe, Varkala Beach offers an unforgettable tropical paradise getaway.
This detailed guide has hopefully provided everything you need to plan an amazing trip to Varkala, from transportation information to top things to do, attractions nearby, places to stay and eat, shopping, weather and precautions.
Varkala has activities, comforts and conveniences for all types of travelers – luxury seekers, budget backpackers, beach bums, wellness enthusiasts, spiritual pilgrims and more.
So what are you waiting for? Soak up the magic of Varkala Beach on your next India vacation for an experience unlike anywhere else! Let me know in the comments if you have any other tips on visiting Varkala beach.
Happy travels!
Read other interesting articles: